fesi Inc., a global provider of clinical development data analytics, announced analysis of site-level registry data from 173 cancers. clinical trials implemented in the last three years.
83,916 data cancer Patients from 57 countries revealed that of the 11,826 investigator sites participating in these trials, 2,298 (19%) enrolled 1 patient (Figure 1).
Investigation result correlate A Tufts Center for the Study of Drug Development (Tufts CSDD) survey found that 11% of sites in clinical development fail to enroll a single patient, and 37% are underenrolled. Phesi's data analysis reveals the scale of the challenges unique to cancer trials.
It costs money to set up and operate a recruitment website. At a minimum, activating a recruitment site would cost him $40,000, and the monthly investigator administration costs about $3,000. Phesi's analysis found that the one-patient site cost $130,000 per patient, about ten times her cost of $14,167 per patient at the better-performing site (Figure 2). ). A single patient site is not only financially inefficient, but also poses serious data quality problems as data outliers cannot be easily identified.
"Single patient sites are a major challenge in trial registration. Inconsistent disease measurements increase the risk of measurement deviation," said Gen Li, CEO and founder of Phesi.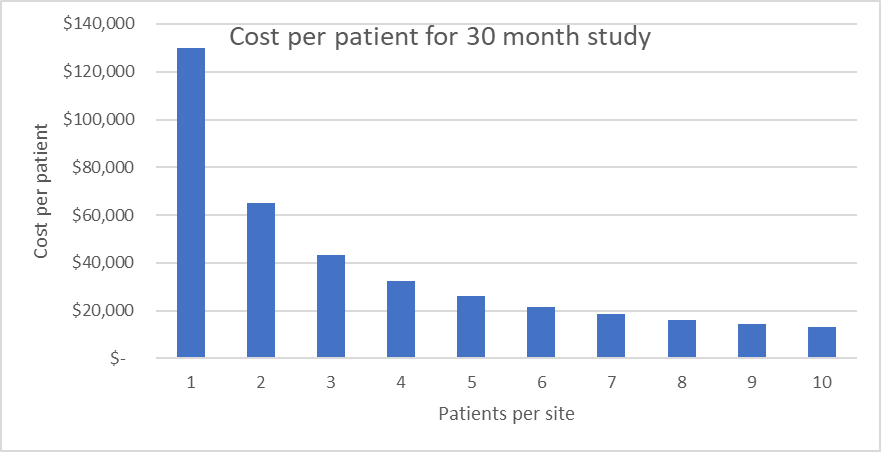 "By simply eliminating sites that recruit only a single patient, cancer clinical trials could significantly reduce costs. We can improve performance across the board."
The majority of trials in Phesi's analysis were Phase 3 (81) and Phase 2 (51). His 169 of the 173 trials enrolled 10 or more of his investigator sites, and the proportion of single-patient sites across all trials analyzed he ranged from 2% to 76%. bottom.
The primary sponsors of these trials were Hoffman-La Roche, Novartis Pharmaceuticals, Regeneron Pharmaceuticals, Merck Sharp & Dohme Corporation and Pfizer. The countries most commonly used to find trials are the United States, Germany, Japan, and the United Kingdom.
"Clinical development has a chronic problem with trial enrollment, with almost one-fifth of sites contributing to just 3% of patients," said Li.
"At the other end of the spectrum, a small percentage (16%) of leading sites contribute to nearly half of the patients. current situation It also eliminates single patient sites by adopting novel approaches such as predictive analytics, simulation of trial design and enrollment performance, and use of digital patient profiles. scenario simulation. These can be used to select and profile the highest performing recruiting countries and sites for an indication and perform accurate recruitment scenario modeling. "
Phesi uses the world's largest clinical trial database to simulate clinical development and improve decision making. Phesi's AI-driven solutions for patient profiling, clinical trial simulation, protocol design, digital twins and clinical trial arms successfully support life sciences companies accelerating drug development and commercialization.
Access full report here.